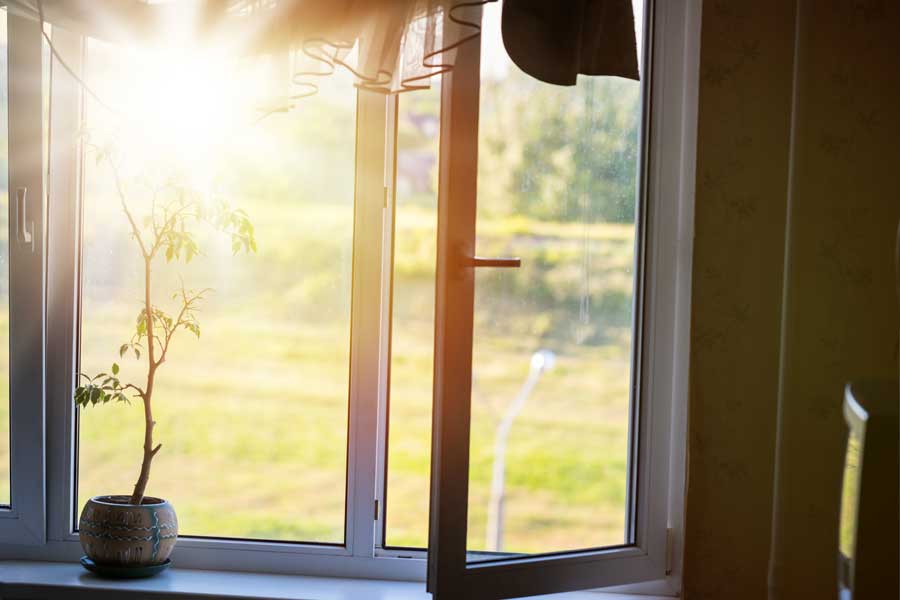 Colorado is home to around 300 days of sunshine a year! Which you probably knew if you have a sunroom or are considering the addition of one. We love that giant fire ball in the sky because it benefits us in a myriad of ways. It provides us with different seasons, helps the gorgeous Colorado flora to flourish, and provides us with generous amounts of vitamin D.
Due to several environmental factors, however, the sun can also be quite damaging to us and the things around us. If not protected from the suns powerful UV rays, we are susceptible to things like skin cancer and premature aging. Our investments, such as our furniture, are prone to fading if left in contact with incessant exposure to the suns harsh rays.
So, how can you enjoy the benefits of the sun in your sunroom without experiencing the dreadful downsides? Innovative Livingspaces has compiled a few helpful ways you can protect yourself.
Window Film
Your first line of defense is going to be proper window choice. Filtered or low emission types of glass have a special chemical coating that assist in blocking UVB rays. If you already have a sunroom without these windows and do not want to remodel, there are still several practical options available to you.
For a less involving solution, consider installing a window film. Window film works to manage the amount of UV rays that enter your home. Without hindering natural light, this film can block up to 99% of damaging sunrays. As an added bonus, this film will also give back to your wallet by controlling the temperature in the room. Keep in mind, though, that this is not the most DIY friendly option, so it may be best to hire a professional to install the window film for you.
Hang Curtains
Obviously, the main draw of a sunroom is to bask in the golden light from the sun. When you are not enjoying your sunroom, however, having some curtains (particularly blackout curtains) can protect your books and furniture while you are away.
Besides blocking out the sun, adding curtains can be a fun opportunity to incorporate a pop of color or some of your personality into the room.
Solar Blinds
Solar blinds are extremely efficient. Unlike blackout curtains, these blinds allow some natural light to slip in when drawn and block up to 95% of UV rays. And unlike window film, these blinds are convenient and easy to install yourself. You can easily find them in a wide array of colors at places like Ikea or Amazon.
Without the sun, we could not survive. There is no reason to be afraid of the sun! With these simple solutions and a little bit of sunscreen (yes, even on overcast days), you can enjoy your sunroom free from worry. And if you have been on the fence about whether or not to get a sunroom yourself, give us a call today! We can go over all the pros and cons with you and help you decide what is best for your vision and budget.
By Innovative Livingspaces 9-26-2019