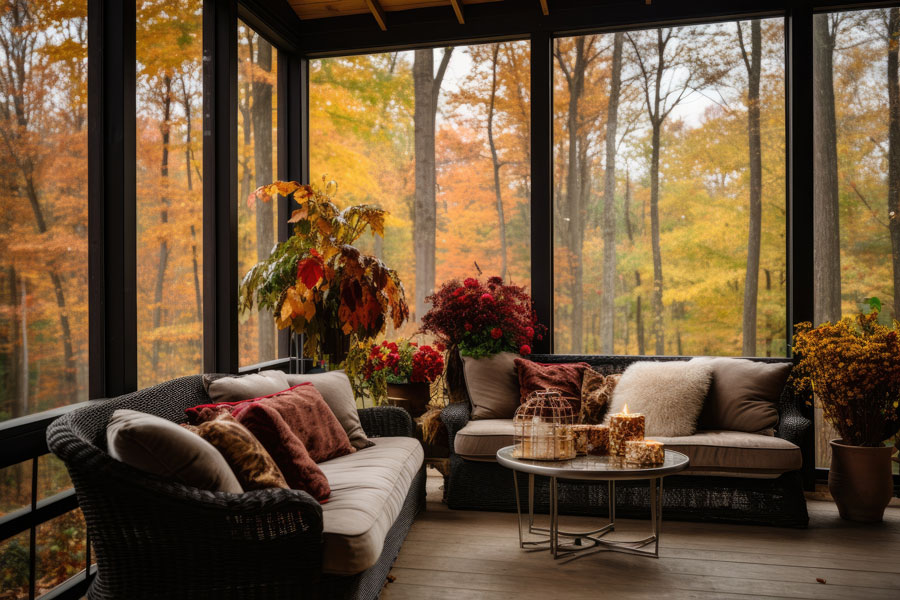 There's nothing like the golden fall of Colorado. If you want to take in all of the crisp and pleasant temperatures and gorgeous foliage this season has to offer, a four season sunroom is the perfect way to take advantage of it all. Here's how.
Enjoy the Scenic Views
Colorado is renowned for its stunning fall foliage as the aspen trees turn brilliant shades of yellow and orange. A four-season sunroom allows you to enjoy these picturesque views from the comfort of your home. The large windows and abundant natural light create a perfect setting for taking in the beauty of the changing leaves.
Temperature Control
Colorado's autumn weather can be quite variable, with chilly mornings and evenings. A four-season sunroom is designed to be comfortable year-round, with insulation and climate control features. This means you can enjoy the autumn scenery without worrying about uncomfortable temperatures or inclement weather.
Natural Light
Sunrooms are designed to maximize natural light, making them an ideal space for soaking up the warm autumn sunshine. The abundance of sunlight can elevate your mood and create a cozy atmosphere, enhancing your overall enjoyment of the season.
Versatility
A four-season sunroom can serve multiple purposes. It can be a relaxing space for reading, a cozy spot for family gatherings, a place for indoor plants, or even a home office with a view. This versatility allows you to make the most of the autumn season in a way that suits your preferences and lifestyle.
Protection from Insects
Autumn in Colorado can bring with it a resurgence of insects, such as mosquitoes. A screened sunroom or one with well-sealed windows can provide a bug-free environment where you can enjoy the outdoors without being bothered by pests.
Extended Outdoor Living
As the weather starts to cool in late autumn, a sunroom allows you to extend your outdoor living season. You can enjoy the beauty of your backyard and nature without being exposed to chilly winds or the risk of snowfall.
To maximize your enjoyment of Colorado's autumn in a four-season sunroom, consider decorating it with autumn-themed decor, cozy furniture, and plants that thrive in the fall. Whether you're sipping hot cider, reading a book, or simply gazing at the colorful landscape, a sunroom can be a tranquil and inviting space to savor the beauty of this vibrant season in the Rocky Mountain state and Innovative Livingspaces would be happy to help you create the perfect space. Give us a call to get started designing your four season sunroom.
By Innovative Livingspaces 10-16-2023