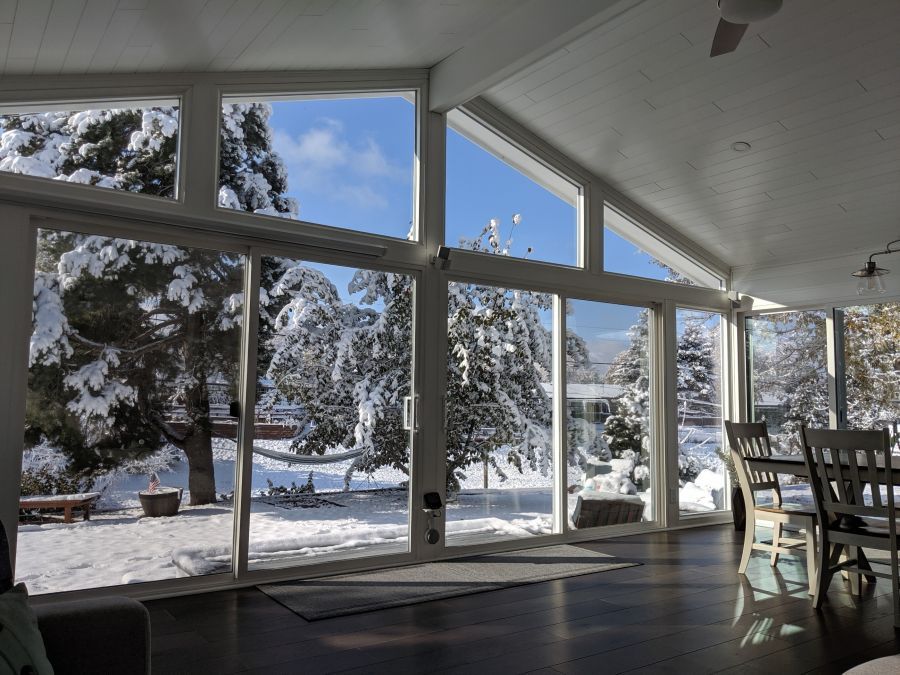 When it comes to sunrooms, you're able to purchase either a 3-season built sunroom, or a 4-season built sunroom. However, some people don't want to pay for an all-season sunroom. Many opt for the 3-seasons but wonder if it's possible to still use this room even though it wasn't built to be used in the winter. We have a number of tips and tricks to make this happen so that you don't have to get rid of an entire room for the winter. As we all know, Winter comes early and stays late in Colorado. Innovative Livingspaces can help make sure that you are able to use your sunroom all year round even if it is just a 3-season sunroom.
Insulation
You'll want to add insulation where you can to help make sure that the heat you do have in the room stays in the room. We aren't talking about insulation that goes into walls but more so like rugs. This can help to insulate the flooring in your sunroom, improving the amount of heat that stays in the room. Having insulated drapes to hang up in the room will hep to make sure that the heat in the room stays in as well. Make sure to do your research on which drapes are truly insulating.
Heat
Depending on how big the room is, you can put a sizable space heater in there and run it when you're using the room. Some have found that they enjoy decorating the room for the season and will put an electric fireplace in there to use in the colder months. There is something beautiful about being curled up next to a fireplace while you watch the snow fall.
If you don't yet have a sunroom but are looking into adding one on to your home, Innovative Livingspaces can help to make sure that you get the exact sunroom you want. We have a skilled and experienced team that allows us to quickly and efficiently add a sunroom to your home that is able to operate even in the winter. Don't go through the cost and trouble of a sunroom and only use it part way out of the year. Make sure that you can use it year-round and get your money's worth out of it. Call us today for a free consultation.
By Innovative Livingspaces 10-30-2019