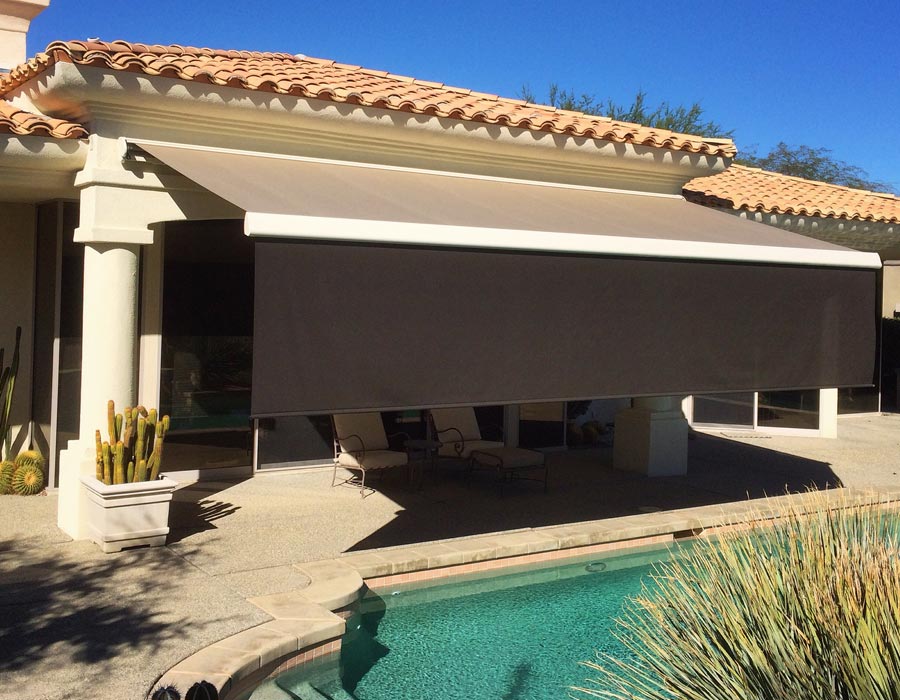 At Innovative Livingspaces, we are all about not only keeping your home in peak condition, but also improving your home. For many, having an outdoor space to enjoy is a large part of having a home space that fulfils your needs. It can be a place to sip morning coffee, a place to relish in the company of friends and family, and much, much more. Oftentimes, your outdoor space will serve to take in all the pleasant outdoor elements while offering you respite from the undesirable ones (including your nosy neighbor's stare). If your outdoor setup is not currently allowing you to do that, a solar screen may be the solution for you.
What is a Solar Screen?
The solar screens we deal with are retractable, mesh materials. These mesh screens are ideal for cutting off harsh sun rays while still allowing pleasant sunshine through. This way you can enjoy outdoor activities even at times when the sun is shining the brightest. When not in use, solar screens can be neatly retracted into a discreet cassette container.
Why Solar Screens are Worth It
When researching ways to upgrade your home, it can often be difficult to land on what option makes the most sense for your circumstances. At Innovative Livingspaces we offer all kinds of services that will improve and bolster the health of your home. From upgraded windows, to sunrooms, to awnings, to screens. So, no matter what your final decision is, we can help you in your endeavor. But what are some of the benefits to adding a solar screen to your home?
1: Well for one, they are a budget friendly option.
2: They can be a standalone addition or used in conjunction with an awning for double the protection.
3: They offer privacy.
4: They shield you from the harsh outdoor elements.
5: They can be installed and ready to use in an afternoon.
If based on these reasons you decide that a solar screen would be the perfect fit for your home, we have got you covered. Our solar screens are available in a wide range of mesh and cassette colors to either match the existing color of your home or to compliment it.
By Innovative Livingspaces 5-5-2021