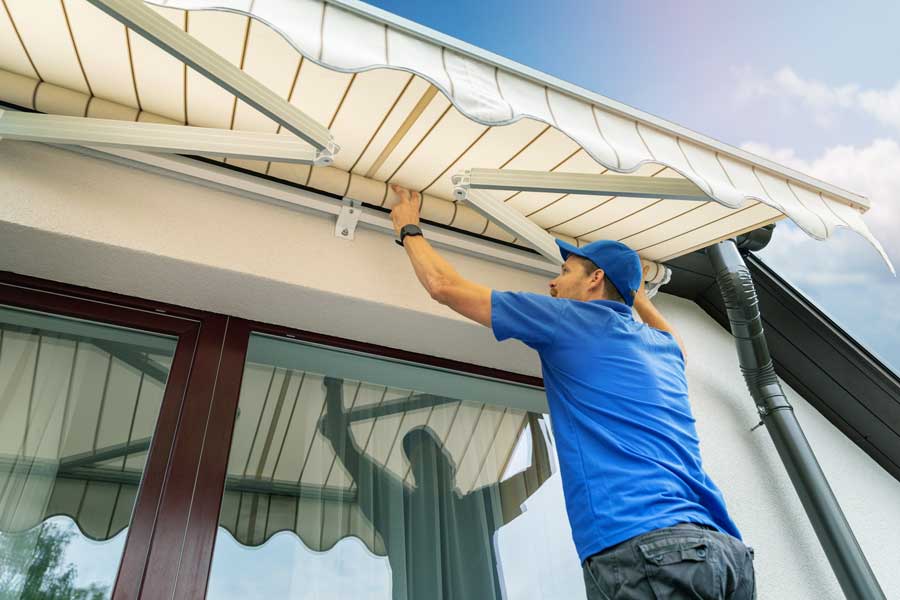 As the weather gets nicer, the temperature gets hotter. And while at Innovative Livingspaces we build four-season sunrooms that are comfortable to enjoy all year round, you may have an older sunroom that tends to hold in heat. Whatever the case, we want to share with you a few tips on how you can keep your sunroom cool as the weather gets hot.
Landscaping
To keep your sunroom cooler, start outside. A few thoughtfully placed trees and shrubs around your windows can offer shade. Trees with large canopies will offer a lot of shade during the hottest part of the day, while smaller shrubs closer to your house will offer the needed shade as the day goes on. Curb appeal and cooler spaces all in one go!
Awnings
If you had to start your smart landscaping from scratch, odds are your trees and shrubs will not be lush enough to offer the shading benefits you are looking for straight away. A more immediate option is an awning. The look of an awning may not be your favorite, but they are excellent in blocking out excess sun and heat. Plus, many can be installed with retractable systems so you can have control over when you use them.
Window Film
Another step you can take to beat the heat is to apply window film to your sunroom glass. This type of film has multiple UV blocking layers that will reduce hot and harmful rays from streaming in. Generally, window film is self-adhesive, so applying it is as easy as can be.
Fans
Never underestimate the power of the humble fan. Especially in drier climates like Colorado, a fan can often be just enough to cool your sunroom down. If you used your fan in the colder seasons, be sure to switch the orientation so that it directs the airflow downwards. Basking in the beauty of nature with a soft breeze from a ceiling fan all from the comfort of your own home? It does not get much better than that.
There is no reason why you should not be able to enjoy your sunroom all year long. If you are interested in adding a four-season sunroom to your home, call Innovative Livingspaces today!
By Innovative Livingspaces 6-1-2020